Yellow Sticky Insect Trap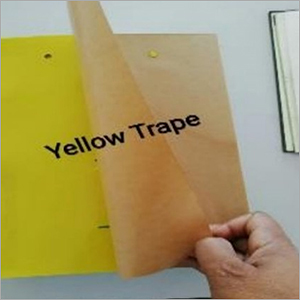 Yellow Sticky Insect Trap
Product Description
Being a quality-centric company, we are engaged in offering Yellow Sticky Insect Trap. This trap has an ability to trap small flying insects. In order to fulfil variegated requirements of our clients, the offered Yellow Sticky Insect Trap can be availed in several specifications. Yellow Sticky Insect Trap is an excellent tool to monitor and control population of flying insects / sucking pests.
FAQs
Why are insects attracted to yellow sticky traps?
The majority of insects are drawn to yellow or bright yellow colours. Insects that come into contact with the yellow trap become trapped in the glue, which is periodically replaced.
How effective are yellow sticky traps?
Yellow sticky traps significantly reduced the population growth of adult and immature whiteflies in the greenhouse. Whitefly densities were significantly lower in the trap-equipped greenhouse than in the trap-free greenhouse.
When should I replace my yellow sticky traps?
Remove the protective coating from the traps and hang them near plants (2-3 inches above the plant canopy). Simply throw away and replace when full.
How long do yellow sticky traps last?
You've likely thought these sticky traps for houseplant gnats were strange, but give them a chance. They are so simple to use that you can put one in each plant pot or vase in your home. It is not toxic or harmful to your plants, and it will last for up to 4 months or more!
Contact Us
110, Devdhar Complex, Nasia Road,, Indore, Madhya Pradesh, 452001, India
Phone :+918045811901